From the enchanting beaches of Costa de la Luz and the gorgeous landscapes of the Pyrenees to the unforgettable cities of Barcelona and Madrid, Spain has a lot to offer travelers looking for a one-of-a-kind adventure.
The country also has something going for it that's just as enticing. Spain is a perfect destination for low-budget travelers. Anne and Carl Deane discuss how you can get the most out of a Spanish vacation without breaking the bank.
Visit During the Spring or Fall
Like all major European destinations, Spain can swell with tourists at multiple times of the year. If you're looking for a less crowded and cheaper experience in Spain, the prime time to visit is March through May and September through October.
The weather is nearly perfect, flights and accommodations are cheaper and there are minimal crowds. Speaking of flights, you're likely to find the cheapest airfare three months before your travel date.
Don't Book a Round Trip
This seems counterintuitive, but it may save you a lot of cash to fly into one location in Spain and fly out of another. This type of approach provides more flexibility as far as plane ticket cost and flight availability. Plus, you can see one area of Spain and have time to explore another part of the country that you will fly out of.
Check out Cantabria
For a well-rounded visit to Spain, check out Cantabria, which is an outdoor adventurer's dream. It's teaming with wildlife, hiking options, and world-class surfing — and most activities are extremely budget-friendly.
As an added bonus, it's not far from Madrid, so you'll get to experience the cosmopolitan capital along with the country's breathtaking natural beauty.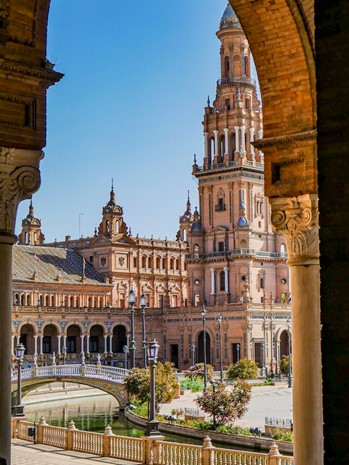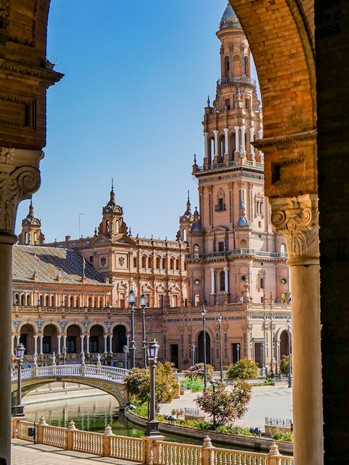 Head to Museums on Free Days
Spain is packed with renowned history and art museums and most offer at least one day a week where admission is free or discounted. Some museums even offer free admission during certain hours of the day, even when it's a busy time of year.
Consider Hostels or Pensiones
If you're planning to be out and about for the majority of your Spanish vacation (and why wouldn't you be?) instead of a hotel or even a house share, look into whether there is a well-regarded hostel or pensiones, similar to a small hotel or a motel, near where you'll be spending most of your time.
These accommodations offer few amenities, but they are very inexpensive while still being safe and giving you everything you need to travel comfortably.
Eat Like the Spanish
Most Americans are used to dinner being the primary meal of the day. The Spanish do it differently, and that can help you save tons of cash.
In Spain, lunch is often the heartiest meal of the day and night hours are often filled with hopping from bar to restaurant and enjoying small orders of tapas, a distinctive Spanish snack or appetizer.
Tapas come in a variety of flavors and dishes, from cheese and olives to fried seafood. It's a great way to save money on meals while still getting well acquainted with Spanish cuisine.